By Jianne Soriano
January 28, 2021
From empire line dresses and corsets to puffed sleeves—these fashion pieces are perfect for nailing the "Bridgerton"-inspired regencycore look
Bridgerton, the hit Netflix series has turned some heads since its release on Christmas Day—not only for the Duke and the Daphne Bridgerton's steamy romance or the lavish parties, but also for its fashionable pieces—so much so that Lyst is calling the look, "regencycore", a nod to the show's Regency-era setting and following the lives of London's elite. Since the series' launch, many have been looking to recreate the look with searches for corsets, long gloves and empire line dresses surging.
With such fabulous and flamboyant fashion featured—from the Featheringtons' over-the-top colourful dresses to the more elegant pieces worn by the Bridgertons'—fans will be looking to nail the look with a modern twist.
From puff sleeves, empire line dresses to corsets, here are some Bridgerton-inspired fashion pieces you should wear now while waiting for the second season to drop.
See also: Nicola Coughlan Talks Playing Penelope Featherington in Netflix Hit, "Bridgerton"
Françoise's empire-line crepe midi dress hits two birds with one stone: it's an empire-line dress and features puff-style cuffs. The dress taps into reworking classic shapes and feminine details by shaping it especially for a slim fit complete with a squared scoop neckline which goes it well with any Bridergton-inspired jewellery piece.
The dramatic puff-style cuff is a great addition as well as the ribbed bodice that falls into a long skirt. Pair the dress with white leather sandals for the ultimate elegant look.
If you've seen the show, you'll definitely remember one of the opening scenes with Philippa Featherington (Harriet Cains) being fitted into a corset by her mother Portia Featherington (Polly Walker) and how Philippa later fainted due to the tightness of the corset. With this Vivienne Westwood corset, you can put a corset without the tightness depicted in the show.
Here, Vivienne Westwood reimagines the iconic corset, a garment she transformed into high fashion collections. The piece is made from charmeuse with a structured bodice and easily fastens with a clean front zip. Wear it with a high-rise skirt to pants to flaunt the curved hem resulting in a modern look of the classic corset.
Whoever said that corsets just have to be a top? Brock Collection's midi dress transforms the top into a dress, woven with vintage bouquets of flowers. Crafted in Italy to a fitted silhouette with ribbon shoulder straps and a corseted bodice complete with underwired cups and waist boning for the contemporary look. Team it with a clutch and black sandals for a romantic evening.
See also: "It's Okay To Not Be Okay" Fashion: All The Designer Brands Worn In Netflix's Hit Show
The dramatic black puff-sleeves in this Rasario midi dress will surely catch anyone's attention. A direct contrast to the white dress, the oversized puffed sleeves highlight Rasario's feminine sensibilities.
The midi dress is crafted from smooth stain to a fitted bodice with a straight neckline and finished off with a back slit for easier movement.
If you're going for a sexier look, Richard Quinn's mini dress is a perfect choice. His affinity for theatrical silhouettes is embodied in this ivory mini dress which encapsulates couture 1980s glamour.
Sculpted from lustrous satin lined with silk to a pleated hourglass figure, the puff sleeves is definitely an eye-catcher. The sheer polka-dot tulle panel skims to a thigh-grazing hemline for a mix of sexy, elegant and dramatic.
See also: Meet Tomo Koizumi, The Designer Behind Fashion's Buzziest Gowns
Not a fan of dresses? Wear Johanna Ortiz's cloqué top instead. Made in Palmira, Colombia from crisp, tackle cloqué, the squared neckline matches well with a dazzling necklace.
The puff sleeves and low backline add a little bit of sexiness to the look while the ruffled tie at the waist is a nice touch to an otherwise simple yet elegant top.
Those looking to sport the casual look yet still "regencycore"-inspired can opt for this mini dress from Alexander McQueen. The pale pink dress captures the two of the brand's house codes—streamlined stretch-knit silhouettes and corsetry-inspired shaping.
It's a contemporary and casual take on a corset, fitted in a short-sleeved bodice that travels to a flared skirt with soft folds and features black panelling around the waist for a sculptured look. The Italy-made dress goes well with heeled sandals for special occasions.
See also: Womanspreading: How Women Are Taking Space With Dramatic Dressing
Floral patterns are also a common motif in the fashionable gowns we see in Bridgerton and Simone Rocha's organza dress is the perfect choice for that. Featuring a romantic silhouette covered in pistachio-green hue, the dress is made from gossamer-fine floral-embroidered organza with long transparent puffed sleeves. But there's also little extra touch here—the side slip pockets.
See also: Simone Rocha's On The Role Of Dichotomy In Her Collections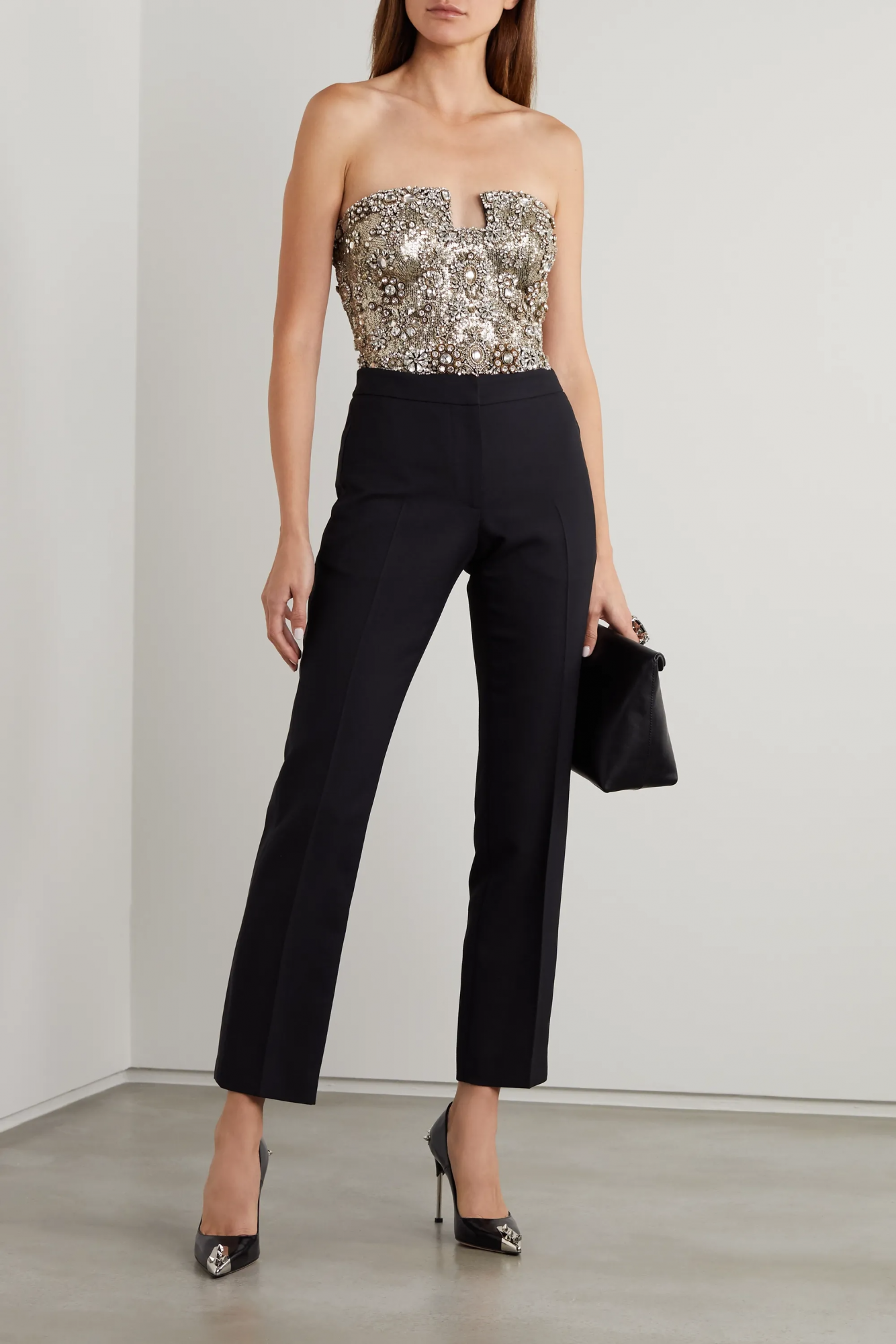 With all the bling and crystals featured in Bridgerton, it also seems right to wear this crystal-embellished top to dazzle. A show-stopping choice for special occasions, Alexander McQueen's bustier top is made at their atelier in Italy and cut from black silk-crepe and flooded with metallic sequins and adorned with illuminating crystals.
The square cutout at the front creates a graphic twist on the sweetheart neckline. Wear this shiny piece with black pants and pumps and you're good to go.
See also: 17 Jewellery Pieces Inspired by "Bridgerton"
Not a fan of pale hues? This navy and blue cloqué mini dress is for you. Part of Simone Rocha's spring 21 collection and inspired by the styles popularised during the Restoration, it's the modern dress taken out of the history books.
In fact, Rocha was particularly inspired by a portrait of Nell Gwyn, a Royal mistress. The mini dress is cut with a square neckline and puffed lantern sleeves and designed to mimic corsets from that time. Top that off with detailed sprigs of flowers.
See also: Simone Rocha's New Collaboration Launches in March, Includes Childrenswear